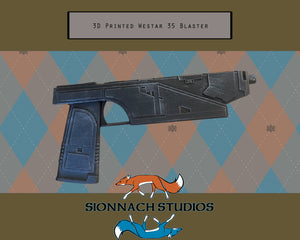 3D modeled Westar 35 Blaster inspired by those carried by Sabine Wren in Star Wars Rebels. This listing is for a 3D printed blaster. This blaster is a single piece, non-functioning and with no moving parts printed in Black and hand weathered so each blaster will be slightly different. Ready to use as is or can be painted for a more custom look. Blaster will come with an orange safety tip pre-installed.
Blaster is roughly 280mm x 130mm x 32mm.
If you would like to print your own blaster, the files are available in our shop here, or via our Patreon here : https://www.patreon.com/sionnachstudios.