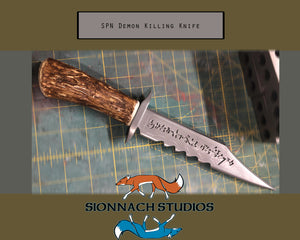 This prop is a replica of the Demon Killing Knife (AKA Ruby's Knife AKA Demon Knife AKA The Knife, etc.) as seen on the show Supernatural. This is NOT a licensed product and was made by us based on multiple screenshots.

Entire knife is cast from resin plastic! The blade and crossguard are cold cast with aluminum powder and polished for a realistic metal finish but are NOT real metal and are totally con safe.

End to end, the knife is 11.3" long and 2.5" wide at the crossguard.